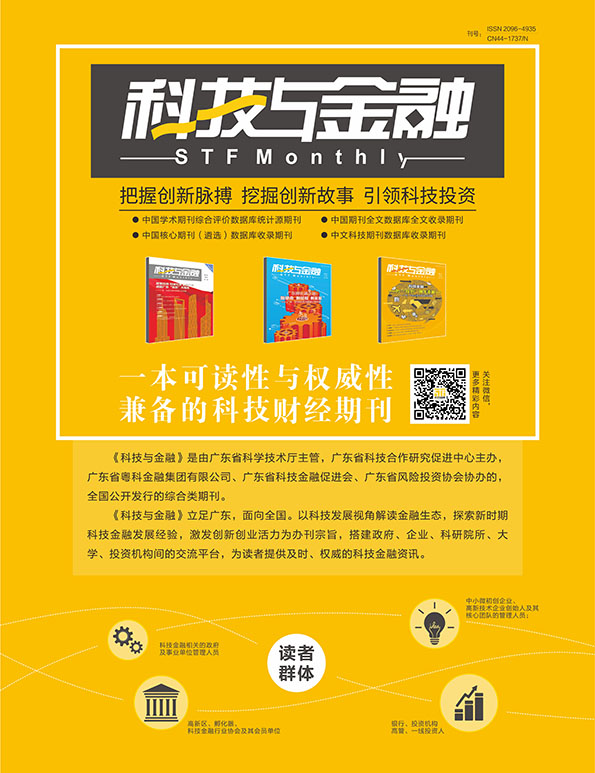 Guangdong Science & Technology Cooperation Center (STC)is an affiliated institution of the Department of Science and Technology of Guangdong province. As a professional organization for international Science & technology exchange and cooperation, STC adheres to the mission of prompting the Science & technology development as well as the economic and social advancement of Guangdong province, aims to impel the Science & technology exchange and the economic cooperation between Guangdong province and other countries or regions, and devotes to providing the government and the society with the professional and effective intermediary services for the Science & technology cooperation.
Please click here to view or watch more information on STC's website. (www.ste.gd.cn )
Sci-Tech Finance Monthly
is issued by the STC and provides insights to the innovative industry, from analyses of local and national policy decisions and how they affect investors and entrepreneurial ecosystem, to telling the stories of local entrepreneurs whose wisdom sheds light on the investment trends as well as the cutting-edge of innovative technology.
Who's Reading Us
The magazine hasmanaged to reach a broad range of audience, including government officials,bankers, investors, financing institutions and associations, high-techenterprises and small-to-medium startups in China.
It serves as an effective channel to facilitate communication from all sides ofthe innovative industry, connecting policy makers with the country's most ambitious and creative entrepreneurs.